Best Computer, Laptop, CCTV and Printer Sales and Services
We are the best computer, laptop, cctv and printer sales and services company. We offer the latest models of laptops, desktops, printers and other office equipment for all your needs.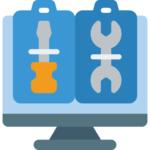 We do repairs of all shapes and sizes. From desktop PCs to laptops, if the device is broken we'll help you fix it! We have gained so much experience by working with various brands. 
Sibghania Soft is the best in laptop repair service providers.  We deal in Dell, lenovo, HP, Aser repair and services also hardware services with Networking Solutions.
Our high-quality CCTV equipment provide the perfect visibility into otherwise potentially dangerous situations. The good news is that we can give you the security and peace-of-mind you deserve with our high quality CCTV Cameras.
One of the best providers of printer repair services. For any type of printer repair, our trained specialists are here to help! Our wide-range of services is available to anyone who needs it.